Preamble
With the following privacy policy we would like to inform you which types of your personal data (hereinafter also abbreviated as " data") we process for which purposes and in which scope. The privacy statement applies to all processing of personal data carried out by us, both in the context of providing our services and in particular on our websites, in mobile applications and within external online presences, such as our social media profiles (hereinafter collectively referred to as "online services").
Last Update: 2. August 2019
Table of contents
Controller
SDI München
Baierbrunner Straße 28
81379 München
Germany
E-mail address: kontakt@sdi-muenchen.de
Phone: +49 89 288102-0
Legal Notice: https://ltaproject.eu/?page_id=1492
Overview of processing operations
The following table summarises the types of data processed, the purposes for which they are processed and the concerned data subjects.
Categories of Processed Data
Inventory data (e.g. names, addresses).

Content data (e.g. text input, photographs, videos).

Contact data (e.g. e-mail, telephone numbers).

Meta/communication data (e.g. device information, IP addresses).

Usage data (e.g. websites visited, interest in content, access times).
Categories of Data Subjects
Communication partner (Recipients of e-mails, letters, etc.).

Users (e.g. website visitors, users of online services).
Purposes of Processing
Provision of our online services and usability.

Direct marketing (e.g. by e-mail or postal).

Feedback (e.g. collecting feedback via online form).

Interest-based and behavioral marketing.

contact requests and communication.

Profiling (Creating user profiles).

Remarketing.

Web Analytics (e.g. access statistics, recognition of returning visitors).

Security measures.

Targeting (e.g. profiling based on interests and behaviour, use of cookies).

Contractual services and support.

Managing and responding to inquiries.
Legal Bases for the Processing
In the following we inform you about the legal basis of the General Data Protection Regulation (GDPR), on the basis of which we process personal data. Please note that, in addition to the regulations of the GDPR, the national data protection regulations may apply in your country or in our
Consent (Article 6 (1) (a) GDPR) – The data subject has given consent to the processing of his or her personal data for one or more specific purposes.

Performance of a contract and prior requests (Article 6 (1) (b) GDPR) – Performance of a contract to which the data subject is party or in order to take steps at the request of the data subject prior to entering into a contract.

Legitimate Interests (Article 6 (1) (f) GDPR) – Processing is necessary for the purposes of the legitimate interests pursued by the controller or by a third party, except where such interests are overridden by the interests or fundamental rights and freedoms of the data subject which require protection of personal data.
Security Precautions
We take appropriate technical and organisational measures in accordance with the legal requirements, taking into account the state of the art, the costs of implementation and the nature, scope, context and purposes of processing as well as the risk of varying likelihood and severity for the rights and freedoms of natural persons, in order to ensure a level of security appropriate to the risk.
The measures include, in particular, safeguarding the confidentiality, integrity and availability of data by controlling physical and electronic access to the data as well as access to, input, transmission, securing and separation of the data. In addition,
Transmission and Disclosure of Personal Data
In the context of our processing of personal data, it may happen that the data is transferred to other places, companies or persons or that it is disclosed to them. Recipients of this data may include, for example, payment institutions within the context of payment transactions, service providers commissioned with IT tasks or providers of services and content that are embedded in a website. In such a case, the legal requirements will be respected and in particular corresponding contracts or agreements, which serve the protection of your data, will be concluded
:
Use of Cookies
"Cookies" are small files that are stored on the user's devices. Different data can be stored within the cookies. The information can include, for example, the language settings on a website, the login status, a shopping cart or the point to which a video was viewed.
In general, cookies are also used when the interests of users or their behaviour (e.g. viewing certain content, use of functions, etc.) are secured via individual websites in a user profile. These profiles are used, for example, to display ads to users that correspond to their potential interests. This procedure is also referred to as
Blogs and publication media
We use blogos or comparable means of online communication and publication (hereinafter "publication medium"). Readers' data will only be processed for the purposes of the publication medium to the extent necessary for its presentation and communication between authors and readers or for security reasons. For the rest, we refer to the information on the processing of visitors to our publication medium within
Contacting us
When contacting us (e.g. by contact form, e-mail, telephone or via social media), the data of the inquiring persons are processed insofar as this is necessary to answer the contact enquiries and any requested activities.
The response to contact enquiries within the framework of contractual or pre-contractual relationships is made in order to fulfil our contractual obligations or to respond to (pre)contractual enquiries and otherwise on the basis of the legitimate
Newsletter and Broadcast Communication
We send newsletters, e-mails and other electronic communications (hereinafter referred to as "newsletters") only with the consent of the recipient or a legal permission. Insofar as the contents of the newsletter are specifically described within the framework of registration, they are decisive for the consent of the user. Otherwise, our newsletters contain information about our services and us.
In order to subscribe to our newsletters, it is generally sufficient to enter your e-mail address. We may, however, ask you to provide a name for the purpose of contacting us personally in the newsletter or to provide further information if this is required
Contents: Information about us, our services, promotions and offers.
Profiles in Social Networks
We maintain online presences within social networks in order to communicate with the users active there or to offer ind information about us there.
We would like to point out that user data may be processed outside the European Union. This may entail risks for users, e.g. by making it more difficult to enforce users' rights. With regard to US providers certified under the Privacy Shield or offering comparable guarantees of a secure level of data protection, we would like to point out that they thereby commit themselves to comply with EU data protection standards.
In addition, user data is usually processed within
Plugins and embedded functions and content
Within our online services, we integrate functional and content elements that are obtained from the servers of their respective providers (hereinafter referred to as "third-party providers"). These may, for example, be graphics, videos or social media buttons as well as contributions (hereinafter uniformly referred to as "Content").
The integration always presupposes that the third-party providers of this content process the IP address of the user, since they could not send the content to their browser without the IP address. The IP address is therefore required for the presentation of these contents or functions. We strive to use only those contents, whose respective
Erasure of data
The data processed by us will be erased in accordance with the statutory provisions as soon as their processing is revoked or other permissions no longer apply (e.g. if the purpose of processing this data no longer applies or they are not required for the purpose).
If the data are not deleted because they are required for other and legally permissible purposes, their processing is limited to these purposes. This means that the data will be restricted and not processed for other purposes. This applies, for example, to data that must be stored for commercial or tax reasons or for which storage
Changes and Updates to the Privacy Policy
We kindly ask you to inform yourself regularly about the contents of our data protection declaration. We will adjust the privacy policy as changes in our data processing practices make this necessary. We will inform you as soon as the changes require your cooperation
Rights of Data Subjects
As data subject, you are entitled to various rights under the GDPR, which arise in particular from Articles 15 to 18 and 21 of the GDPR:
Right to Object: You have the right, on grounds arising from your particular situation, to object at any time to the processing of your personal data which is based on point (e) or (f) of Article 6(1) GDPR , including profiling based on those provisions.
Where personal data are processed for direct marketing purposes, you have the right to object at any time to the processing of the personal data concerning you for the purpose of such
Terminology and definitions
This section provides an overview of the terms used in this privacy policy. Many of the terms are drawn from the law and defined mainly in Article 4 GDPR. The legal definitions are binding. The following explanations, on the other hand, are intended above all for the purpose of
Controller: "Controller" means the natural or legal person, public authority, agency or other body which, alone or jointly with others, determines the purposes and means of the processing of personal data.
Interest-based and behavioral marketing: Interest-related and/or behaviour-related marketing is the term used when potential user interest in advertisements and other content is predicted if possible. This is done on the basis of information on the previous behaviour of users (e.g. visiting and staying on certain websites, purchasing behaviour or interaction with other users), which is stored in a so-called profile. For these purposes cookies are usually used.
Personal Data: "personal data" means any information relating to an identified or identifiable natural person ("data subject"); an identifiable natural person is one who can be identified, directly or indirectly, in particular by reference to an identifier such as a name, an identification number, location data, an online identifier or to one or more factors specific to the physical, physiological, genetic, mental, economic, cultural or social identity of that natural person.
Processing: The term "processing" covers a wide range and practically every handling of data, be it collection, evaluation, storage, transmission or erasure.
Profiling: "Profiling" means any automated processing of personal data consisting in the use of such personal data to analyse, evaluate or predict certain personal aspects relating to a natural person (depending on the type of profiling, this includes information regarding age, gender, location and movement data, interaction with websites and their contents, shopping behaviour, social interactions with other people) (e.g. interests in certain contents or products, click behaviour on a website or the location). Cookies and web beacons are often used for profiling purposes.
Remarketing: Remarketing" or "retargeting" is the term used, for example, to indicate for advertising purposes which products a user is interested in on a website in order to remind the user of these products on other websites, e.g. in advertisements.
Targeting: Tracking" is the term used when the behaviour of users can be traced across several websites. As a rule, behavior and interest information with regard to the websites used is stored in cookies or on the servers of the tracking technology providers (so-called profiling). This information can then be used, for example, to display advertisements to users presumably corresponding to their interests.
Web Analytics: Web Analytics serves the evaluation of visitor traffic of online services and can determine their behavior or interests in certain information, such as content of websites. With the help of web analytics, website owners, for example, can recognize at what time visitors visit their website and what content they are interested in. This allows them, for example, to optimize the content of the website to better meet the needs of their visitors. For purposes of web analytics, pseudonymous cookies and web beacons are frequently used in order to recognise returning visitors and thus obtain more precise analyses of the use of an online service.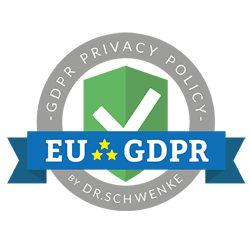 If you have any questions or concerns please contact the SDI data protection officer at any time here: dsb@sdi-muenchen.de
2,096 total views, 2 views today